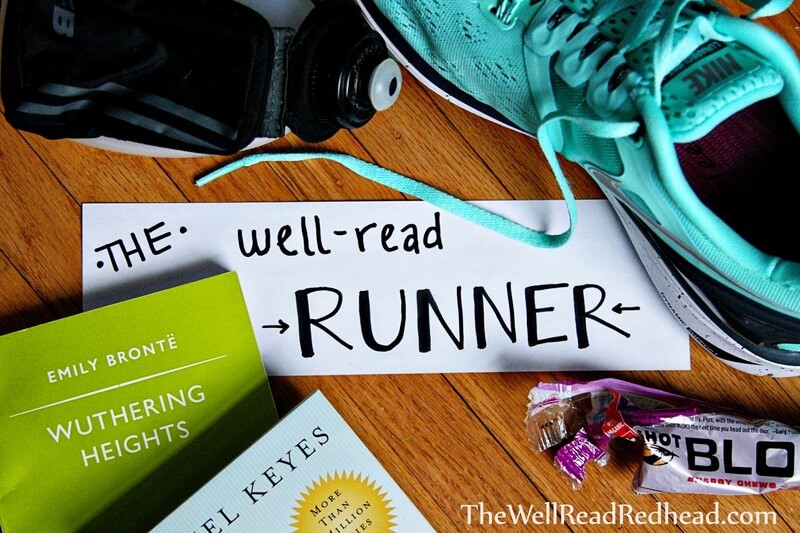 I'm a week late here, but I ran the Shoreline 5K in Hamlin, NY last Saturday (the 18th), and it's about time for a recap!
You may remember that my goal for this race was to beat my 5K PR. This has been a goal of mine ever since
the 10K I did in May
, because my Garmin showed that the first 5K of that race was better than my 5K PR time! I knew I had enough training under my belt to smash it. Shoreline was described as a "fast and flat" course, so I signed up and got ready for race day. I did some speed work in the weeks leading up to it (intervals, race pace runs, etc) and felt more than ready on race-day-eve. Plan: run a sub-26 5K (my current PR was 27:02).
Day of the race, I got up early and did my usual bagel-and-banana routine. Weather was calling for 70's and overcast in the morning, which sounded good to me; however, what I REALLY should have looked at was the humidity, which was hovering around 88% and climbing (eventually reached 94% by race time). It wasn't until I got out of my car after the 45 minute drive to Hamlin (which is right on Lake Ontario) that I realized how thick the air was going to be.
At this point, I probably should have adjusted my plans a bit, right? With humidity that high? But, I didn't. I was jammin' out to my favorite tunes, getting pumped up, and I was ready to DO THIS THANG, humid or not.
As race time approached, I stretched, had a Honey Stinger waffle, used the bathroom, etc. Our original start time was supposed to be 8:15, with the Shoreline half marathon starting at 8:00, but they moved our start to 8:30 after some last-minute course changes caused a bit of chaos. This was kind of nice, because the half marathoners cleared out of the bathrooms/refreshment area by 7:50, giving the 5K'ers ample time to get ready. The 5K was a much smaller crowd than the enormously-attended half, so I got comfortable at the start line and was ready to roll.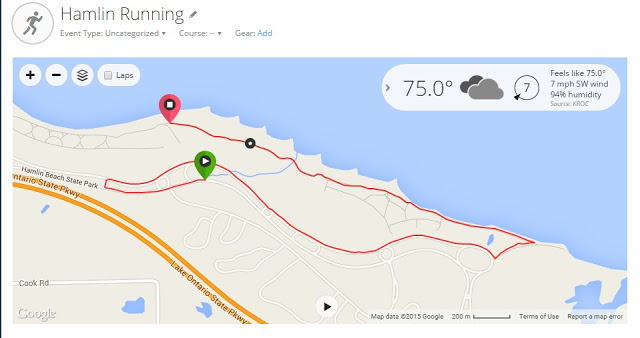 Race map from my Garmin
Before we knew it, BOOM, we were off! I pushed hard right out of the gate, catching glimpses of 7:45 pace on my Garmin. My target pace was around 8:15, but I figured if I was comfortable going faster in the beginning, I would roll with it. At the half-mile mark, we were running down the state park entrance road, and my husband and kiddos were driving in from the other direction. They rolled down the windows and gave me some enthusiastic cheers, which was an awesome boost!
I hit the 1 mile mark with a 7:54 split. While that felt great to see, I started to get an inkling that I was in trouble. I was sweating like I had just gone through a downpour. (Is there any grosser feeling than trying to wipe the sweat off your sweaty face, only to realize that your hand is equally sweaty, thus just adding hand sweat on top of the face sweat? Really.) I figured I could still PR, but maybe just not by as much as I had originally planned.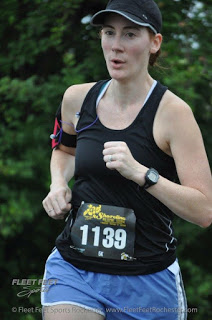 During mile 1. Not the most attractive, but looking kind of bad ass, let's be honest.
That was a nice thought, for a while. But by the time I hit the 2 mile marker, I knew party time was over. 8:37 split, over target pace, and the thought of chugging through one more mile of this humidity was awful. I felt like I was breathing underwater. Not long after that marker, we turned onto the path that goes along the lake, which provided some breeze--but not nearly enough to make it bearable.
The last mile was a trudge, and I could tell that I was not alone. A guy I had chatted with at the start, who said his target pace was over a minute faster than mine, was running right next to me and visibly hurtin'. No one was looking pretty in this race, that's for sure!
I pushed myself to keep on, but it was a struggle. Just before the finish, the hubs and my boys were there yelling, "GO MOM! GOOOOO MOM!!" which was pretty fantastic and brought many laughs from the surrounding crowd. It was also the only thing to put a smile on my face in that last mile! Third mile split was a lousy 9:14, final time 27:18. Over PR by 16 seconds.
While I was, of course, disappointed in my time at first, I didn't remain disappointed for very long. I quickly realized that it had been foolish to think I would run amazingly well in humidity that high. I had never really had to adjust my goals for that type of weather situation, but lesson is now learned for sure! Physically, I still feel like a PR is in my near future, but it will have to be on a drier day. (I was also very glad to not be one of the half marathoners this day--a LOT of people were getting pulled off course for medical attention during that race. Scary stuff.)
Given that, to be only 16 seconds above PR, and 9th out of 42 in my age group, is still pretty darn good in that weather!
To add to this positive swing, an hour after my race, Small Fry got to participate in his first 1/4 mile kid's race! I ran it with him (at his request), and he had such an awesome time. They didn't time the race, but he ran his little heart out.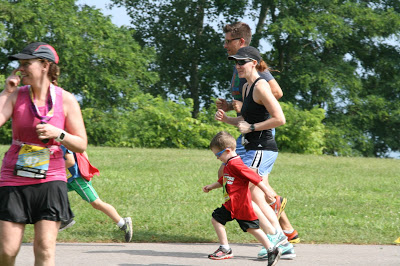 When he got a medal after crossing the finish, he started yelling, "I WON! I WON!!" Cutest thing ever. He got some serious bling-bling too! Heavier than both of my half marathon medals. Dang.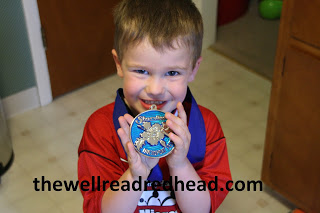 He is signed up for another 1/4 mile race in September (I am doing the corresponding 5K again), and he is VERY excited. Perhaps another runner in the family? We shall see...
And so, the 5K PR dreams will wait for another day. In the meantime, I've learned yet another lesson in running via this race--as I seem to do from all races!
What lessons did you learn from your last race?