Any parent will tell you that life pre-kids is very different than life post-kids. "Different" doesn't mean better or worse--just different! You have to give some parts of your carefree lifestyle up, but you get an awesome bundle of awesome in their place. WIN.
One of the things that the husband and I gave up after Small Fry's arrival was our frequent travel. We traveled a LOT in the 6 years of our relationship before the little dude was born. We still travel now, but child-related travel (wholesome family fun in the Outer Banks) is way different than pre-child travel (let's go to Vegas and see how quickly I can double-fist margaritas).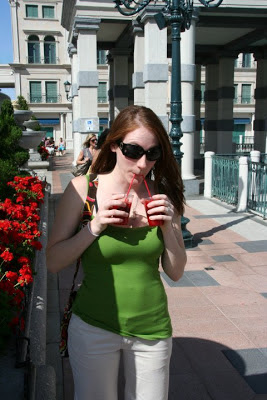 Not really kidding about those margaritas.
Anyway, now that we travel less in person, I find myself wanting to travel more in the literary sense. I love reading books that either take me back to the beautiful places we've been, or transport me to new destinations that I haven't yet had the chance to explore. I guess that's part of why I'm so into Giraffe Day's
Around The World in 12 Books
challenge this year.
With that in mind, here are a few books that have helped me travel to both once-visited and new-to-me destinations:
Italy
Italian cities are some of my favorites to visit in novels. I've been to Florence, Rome, and Naples, and these particular books cover those cities very well. The authors get VERY detailed about places, people, and atmosphere, and it really transports you right along with the characters. Plus, how fun to go to Italy and try to retrace Langdon's steps?
The Netherlands
I already talked your ear off about Park's novel and how beautifully he portrays Amsterdam, but Dorrestein is a Dutch author who sets most of her books in that country as well.
A Heart of Stone
is not a lighthearted read by any measure, but I enjoyed that it was set in the Netherlands and told from a native's perspective.
Coastal North Carolina
Basically all Nicholas Sparks books ever
I read a lot of Sparks novels before we visited the OBX last summer, and once we got there, I realized why he likes to use the beaches of North Carolina in his books. They're beautiful, peaceful, and relaxed...very conducive to romance. I am not the biggest Sparks fan in general, but I do love his settings.
Nantucket, Massachusetts
Basically all Elin Hilderbrand books ever
I've never been to Nantucket, but Hilderbrand's romances are usually set there, and they make me desperate for a beach vacation.
The UK/Ireland
I have never been to the UK or Ireland, but I am DYING TO GO. (I know I have some UK readers, who wants to put up this ginger for a week or two?) There are so many good books that highlight the flavor of these countries--this list is but a few. You can also read pretty much any Sophie Kinsella or Jane Green novel to get a London fix.
Hawaii
This book highlights some of the more devastating parts of Hawaii's past, but the islands themselves are painted so gorgeously by Brennert. I want to go to there.
Sweden
The Millennium trilogy by Stieg Larsson
Nothing could ever make me more interested in Stockholm as a vacation destination than
The Girl With The Dragon Tattoo
series. I was researching flights by the end of the trilogy. Larsson wins for making it sound awesome to eat open-faced sandwiches in the cold.
Africa
None of these books illustrate Africa in the most positive of lights, but as a lover of travel, they leave me feeling intrigued about what a trip to the continent might be like.
Mount Everest
Krakauer does not make climbing Everest sound fun. At all. (See: parts of book where 8 people die trying to climb it.) But I'd be lying if I said it didn't make me wonder what it would be like to scale the darn thing. Maybe just to base camp?
Russia
I know this is a tad crazy, because neither of these books make Russia seem like the most inviting place in the world. Plus, Russia is actually not a very safe place for American travel these days, but books set in that country make me insanely interested in checking it out. Maybe one day.
Around the Globe!
Can't argue with a novel that basically takes you around the globe! And two of these are nonfiction books, making the travel experiences even more vivid for the reader. (Bonus: Bourdain's book will make you want to Eat All The Things.)
There are also a few favorite destinations that I haven't read books for yet. Have you read any books set in these locations? I'm dying to find some!:
Bermuda
Spain (specifically Barcelona)
Montreal
Turkey
Greece (either Athens or the islands, Mykonos and such)
Do you like to "travel" when you read? What are some of your favorite literary settings?