Happy Sunday, readers! FYI, this is not just any old Sunday. It's also the
6th wedding anniversary
for me and my darling husband. WOOHOO! I told him a few weeks ago that this means we only have 1 year left until the 7-year itch. He was not amused. Apparently 6 years has not been enough time for me to improve my joke delivery?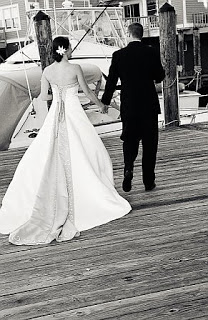 Walking off into the sunset. He had no idea what he was getting into. MUWAHAHA!
We are spending this year's anniversary FINALLY moving into our house (HOORAY!), but in the meantime, I had to do a little post here to commemorate the big day.
Fun fact: our first dance at the wedding was to
The Book of Love, by Peter Gabriel
. We had the hardest time picking a song, and then my friend Jennie had me listen to this one. Hubs and I immediately got tears in our eyes the first time we heard it. I guess that's how you know you found your wedding song: when it makes you burst into mushy, girly tears, even though you are very rarely prone to mushy, girly tears.
Other than just being OUR song, it's also cool because it's a little bookish, right? So in honor of today, here's a quick list of some of
my favorite "books of love"
...not necessarily in the romance genre, but novels that make even
my
not-usually-sappy heart swoon.
1. The Time Traveler's Wife by Audrey Niffenegger
Easily my all-time favorite book. Potentially one of the most unusual love stories out there (given the whole, you know, time traveling thing) but if there was ever a "let's overcome some crazy obstacles to be together" story, this is it.
2. The Night Circus by Erin Morgenstern
You can check out my full review of this one
here
, but Celia and Marco have one of the most awesome (and visually pleasing...love the imagery!) literary romances ever.
3. Wuthering Heights by Emily Bronte
Granted, Heathcliff and Catherine basically want to kill each other for most of this book, but that's probably why I love it so much. What fun is a sappy romance when you can watch the two lovers try to annoy the crap out of each other first? (mini-review
here
)
4. What Dreams May Come by Richard Matheson
The book made me cry. Then I watched the movie and that made me cry too. A couple is separated when the husband dies in a tragic accident, and they discover what must be done to reunite themselves in eternity. Such a cool concept and SO SAD but worth the tears.
5. The Notebook by Nicholas Sparks
Okay, I'll give Nicholas Sparks ONE shout out here.
The Notebook
is not an amazeballs book by any means, but it is really sappy and swoon-worthy. Paired with the movie it has to be noted as a good romance, even if you're not typically a Sparks fan.
6. PS, I Love You by Cecelia Ahern
This isn't really a romance, since the main character's husband dies in the beginning and she must spend the rest of the novel trying to rediscover her life. But she does that through the letters her husband left behind, and that alone is enough to make you say "awwwwwwwwww" over and over. PS, the book is better than the movie.
What are YOUR favorite "books of love"?