I've wanted to do this post for a while, because in case I haven't said it enough,
I LOVE THE LIBRARY.
I thought it would be worth highlighting the various wonderful libraries that I've had the pleasure of living near throughout my life.
Let's take a trip down memory lane, shall we?
Some of my very earliest memories are of going to the local library with my mom. My first local library was the
Bill Memorial Library
in Groton, CT. Up until we moved at age 10, "the Bill" was an easy 5 minute walk from our house. How great is that?
Bill Memorial Library, Groton, CT
I went to countless story times there as a tyke. I remember following my mom through the stacks of the adult section as she picked out books, spending many hours browsing the kids section, and I volunteered there for a period of time in middle school. This library is super cool, because it's quite old, very small and cozy, and has a lot of history behind it. There's even an interesting-slash-creepy butterfly collection in the attic. If there is a place where my love of books began, this is likely it.
We moved across town when I was in 5th grade, and even though we made the drive back to the Bill often, the move put me closer to the
Groton Public Library
, which is bigger and has quite a few more resources for visitors. Not as cozy as the Bill, but a great place for studying...I remember spending way too many hours here doing AP English homework and researching colleges in my junior/senior years.
Groton Public Library, Groton, CT
After high school, I headed to college at UConn and had 4 years of visiting the
Homer Babbidge Library
on campus. The place is impressive--UConn is a Research 1 institution, so naturally they have a library to match. However, my memories of this place are less filled with pleasant, literature-filled lazy hours, and more filled with OMG MY FINAL IS TOMORROW HOW DID I FORGET WHAT A COVALENT BOND IS ALREADY (yes, my first all-nighter took place here). Even so, there are two locations that have more lighthearted memories for me in UConn's library: the Bookworms coffee cafe on the main floor, and 3 North ("study" area on the 3rd floor, north side of the building). 3 North was affectionately nicknamed the Dry Bar. No work gets done there. I'm pretty sure that's still the case.
Homer Babbidge Library, University of Connecticut
After college, I moved just north of Albany, NY, and the now-husband and I lived in that area for the next 8 years. In the first apartment we lived in, the local library was the
William K. Sanford Library
in Colonie. These were my early post-college years, when I first re-connected with the library after living in textbooks for 4 years. I wanted to read ALL THE THINGS and would spend ages just wandering the stacks in wide-eyed wonder.
Then we moved to our first house a few years later, and our new library was about 15 minutes north, the
Clifton Park-Halfmoon Public Library
. When we moved to Clifton Park, I realized something wonderful: the Sanford Library is part of the Upper Hudson Library System, which encompasses over 30 libraries around Albany. And the Clifton Park library is part of a different system that covers 8 counties north and west of Albany. For two years, my library cards at both places were active. DO YOU HAVE ANY IDEA HOW MANY BOOKS I HAD AT MY FINGERTIPS? The power was great. I could interlibrary loan literally anything you could think of. It was amazing. **geek moment**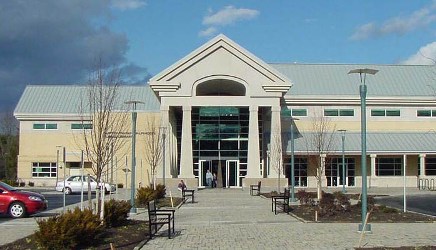 Clifton Park-Halfmoon Public Library, Clifton Park, NY
Nerdy stuff aside, I will always have very fond memories of the Clifton Park library, because that is where I took Small Fry to his very first story times as a baby (only 3.5 months old for his first one)! Awwww, love of libraries coming full circle. CPH really does an amazing job with their children's area and activities. Plus, this is where I got attend my first author event, as they hosted
Dennis Lehane
there in 2012.
Then, of course, we made our big move to western New York in 2013. First, we had a brief 6-week stint in Batavia, NY as we waited for our house to come available. Even though we were only there a short time, our rental was just a couple blocks from the
Richmond Memorial Library
. Small Fry and pregnant-me took many, many summer walks there in the few weeks that we lived in the area. Richmond library reminds me an awful lot of "the Bill", with it's older exterior, though it has gotten a facelift in recent years. This library is smaller in size, but offers a surprisingly large number of programs given the size of the surrounding community (Batavia is fairly rural).
I didn't love living in Batavia
, but I will say that the Richmond library provided some of the best memories we have there!
Richmond Memorial Library, Batavia, NY
Finally, on to Rochester. I was quick to figure out my library options when we got here. I live on the western side of the city, but my library card is good at any of the 31 libraries in Monroe County, which rocks my socks. We actually have several of those libraries in close proximity to our house, and make a point of visiting at least one of them each week. Our current favorite is the
Chili Public Library
(affectionately referred to by Small Fry as the "train library", thanks to the awesome Thomas the Train table in the children's room).
Chili Public Library, Rochester, NY
It's a small-ish library, but the staff is SO nice, and they put on a ton of fun programs for kids. (And yes--this is where Tater Tot got to attend his first story time! Memorieeeeees.) Plus, I suspect that Small Fry has a crush on Miss Jill, one of the children's librarians, so chances are he has an ulterior motive for all our many, many visits here.
Quite the litany of library experiences I've had in three decades! I look forward to many more years of literary memories, and new libraries to explore.
(And if you haven't gotten the subtext of this post yet--
VISIT YOUR LIBRARY!!
So much to see and do...not just books, but often craft programs, book sales, free museum passes, book clubs, etc. Most of it free, too. BONUS.)
Tell me about your favorite library memories, reader friends!