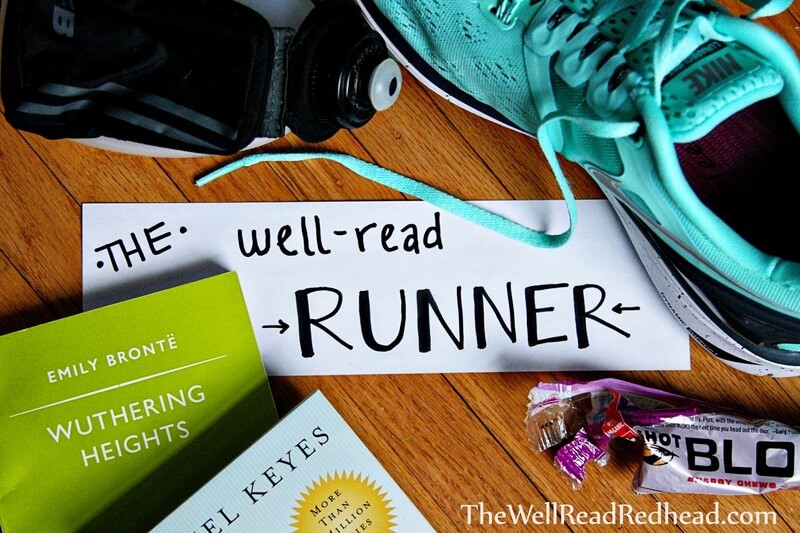 Yes, my friends, after 12 weeks of blood, sweat, and tears, the Mystic Half Marathon has come and gone. What a day! (Spoiler alert: a very good day.) Let's recap!
Day Before/Expo:
I drove down to Groton, CT (where my parents live and 10 minutes from Mystic) on Friday night. I made this trip solo--Small Fry started suffering from car sickness a couple months ago, and as we have lots of travel coming up in the next few weeks, we decided to spare him the 14 hour (round-trip) drive to Connecticut for my race. Sad for me, but I will admit that it was nice to have a bit of alone time pre-race.
Saturday was packet pick-up. We drove over to the Mystic Hilton, and I was psyched to get a low bib number (50...I felt like an elite...haha). I also picked up for two other runners because there was no race-day pickup for this race. Kind of a pain for a lot of people, I think! It would be nice if they had this available on race day next year.
I got a great deal on a new Adidas running tank and sports bra at the expo ($35 for both!), and spied Amby Burfoot at his table, but was too nervous to go up and talk to him. (To know why, see: every single author signing I have been to and acted awkwardly at.) For those that don't know, Amby Burfoot won the Boston Marathon in 1968. He was the editor-in-chief of
Runner's World
for a long time, and still writes for them. And, turns out, he went to my high school! He agreed to sign on as a "celebrity pacer" for this race, leading the 2:15 group (a bit slower than I intended to run). Turns out I would be seeing more of him on race day than I thought (more on this later).
I did also attend the course preview, which was a slide-by-slide review of the entire course. This was SUPER helpful, as we would be running through some wooded areas that I was not entirely familiar with, despite growing up in the area. I felt like I had a decent handle on things by the time I left.
That night, my good friend Colleen (we were BFFs through most of high school!) hosted a pasta dinner at her parents' house, as both she and her husband Chris were signed up to run, as well as her younger sister (Caitlin), and two of Caitlin's friends. Much carb-loading ensued, and the non-runners drank lots of good beer and dark-and-stormies, while the runners looked on sadly and sipped their water. Le sigh.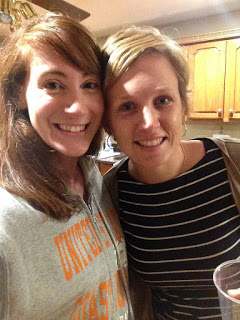 Me and Colleen at dinner. My hair is a preview of the race-day humidity!
Race Day:
Well, I woke up at 4:15am with a serious case of jitters. My stomach had crazy butterflies going on, and I knew there was no way I was getting back to sleep. I laid there until about 4:30, when I gave up and decided to get ready. The forecast was showing no rain in sight, high humidity, and temps in the mid- to high 60's for start time, so I went with my old Adidas running shorts, New Balance tank, and C9 running hat as my race day outfit. Ate my usual pre-race breakfast (plain bagel with peanut butter, and a banana), though honestly my stomach was so nervous that I only got through half the bagel and half the banana. Drank a bunch of water, packed up my hydration pack, and out the door at 5:45am.
I got to the race site at 6:00. There was tons of parking right at Mystic Village, which was awesome, because you didn't really need to do gear check--everyone's cars were a minute's walk from the start/finish area. For a race this well-attended, that was impressive.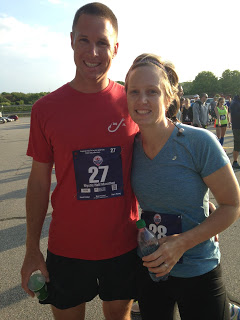 Chris and Colleen on race morning
I met up with Colleen, Chris, and their crew, and then found Cora and Sara, the two women I picked up packets for. Cora and I have actually "known" each other for almost 10 years, as we were both members of TheKnot.com's wedding discussion forums back when we were planning our weddings, and we have kept in touch ever since. However, today was the first day we were actually meeting in person. It was great to finally meet, especially on a day as exciting as this one.
Sara is friends with Cora, and I hadn't chatted with her much before race day (a few times online as we discussed race training, but that was it). However, we ended up as running buddies this day--a first for me, because as you remember, I run solo basically all the time. But Sara is also registered for the Ironhorse Half this coming weekend, and decided she wanted to take it easy at Mystic. My anticipated pace (9:45) was way comfortable for her, given that her race pace could be closer to 8:00, so she asked if I wanted company and offered to be my pacer. I said yes--even though I'd never run with anyone at a race before, I figured it would be really helpful to have company, especially in those later miles when I would need motivation. (I am very glad that we did this!!)
At 6:30, I ate a Honey Stinger waffle, then used the porta-potty one last time. Said a good luck to Colleen & co as they were seeding a bit further up than I planned to seed myself. Sara and I lined up just ahead of Amby Burfoot and his 2:15 pace team, as I was hoping to come in closer to 2:10. There was also a 10K, and half and 10K runners lined up at the same time. The start line was a bit disorganized, honestly...one of the only downsides to the race details. The start was on Coogan Blvd, but most of us were jumbled up around the corner in the driveway near Steak Loft, even when the gun went off. Not a huge deal, but it would have been nice if we all could have just lined up on Coogan.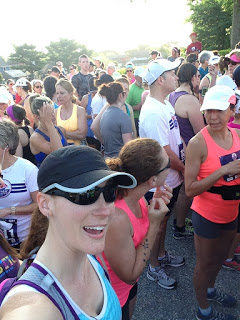 Waiting in the start line chaos! Sara is in the pink standing next to me/looking away
(Let me talk for a hot minute about my pace goals for this race. Ultimate goal: just PR. Anything under 2:21 would make me happy at the finish. But pace-wise, I was hoping to hold 9:45/min for as long as I could, with the hope that during the hills, I would go no slower than 10:45/min as an absolute max. 10:45 was the average pace of my last half, so my philosophy was that if I had a lot of minutes
under
that, and a few minutes
at
that, then I would PR. Right? Yay, math!)
7:00 came, gun went off, and away we went! The race started on Coogan and then took an immediate left to head down toward the Mystic Seaport. This part of the course was flat, flat, flat. And beautiful to boot.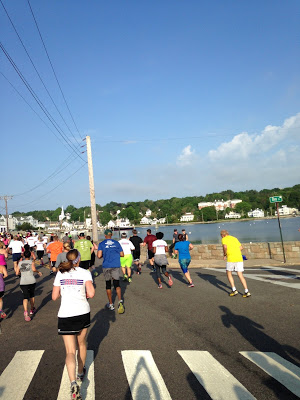 First look at the river coming into downtown
Even though I lived in this area for years as a kid, it was still exciting to run past all the fun Mystic landmarks. Plus, coming into downtown (around the 1 mile mark) and seeing the Mystic River was pretty great. A definite favorite was being able to run across the Mystic Drawbridge.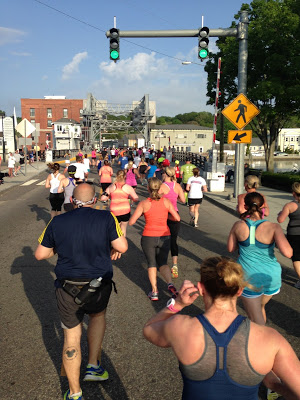 Coming up to the drawbridge
(Unfortunately, that was the last pic I took during the race--things got a bit more wooded afterwards, and once the hills started...forget it.)
After the bridge, we took a right and headed down to River Road. This road winds down along the Mystic River and makes for more gorgeous scenery. And again, flat flat flat. Sara and I were chatting away as we ran, and we had to keep checking our Garmins and slowing down in order to be near 9:45. Our first four miles clocked in at 9:30/9:32/9:35/9:50, so we were doing a great job staying near pace!
During the 5th mile, I decided to take my first Gu (I had 2 with me). During my long runs, I usually fueled at 4.5-5 miles, so I decided to do the same here. However, within a few minutes of taking the Gu, I felt insanely bloated--like I had eaten an entire breakfast or something. So strange! No cramps like I usually worry about, but just felt really uncomfortably full. Hmm. Ah well, I charged on, and miles 5 and 6 both came in exactly at 9:45--awesome. Almost halfway there!
Then...the hills.
THE HILLS.
I really cannot overemphasize here THE HILLS.
Right towards the end of mile 6, the half marathoners had to take a left onto Deer Ridge Road, while the 10Kers continued straight. We went 3/4 of a mile on Deer Ridge, then had to turn around and come back down to the main road. When I went to the course preview on Saturday, the guy had said there was a hill on Deer Ridge. OH, JUST A HILL, YOU SAY? A MERE BUMP, PERHAPS? This was not just any hill. This was the hill to end all hills...honestly, I'd say it was the hardest one on the entire course. It was relentlessly steep, starting right after we got on Deer Ridge and not ending until we got to the turnaround at the top.
Needless to say, it was a trudge. In the middle of it, I almost pulled out my phone and texted my runner-friend Mandy with "THE WHEELS ARE COMING OFF!!" I was losing steam, and fast.
I did have to walk some of it--though honestly, it was more because that Gu was making me feel like I had to puke, vs my legs couldn't handle the hill. Anytime I started breathing too hard, that Gu came back at me. But I pushed where I could and finally, blessedly, got to the top. While it was nice coming back down the way we came, I could feel the beating that my quads were taking and knew I would pay for that speed later. Mile 7 came in at 10:24...above desired pace but still under the pace of my last half, so okay. I lived to see another day.
Once we got down Deer Ridge and turned left to rejoin the main road, I saw a bank of porta-potties. As I had expected (based on how ALL of my long runs went), I had to pee. So, I made a quick pit stop. Luckily, there were no lines, and I got in and out pretty quickly. At the next potty stop, I saw a line of 5 people, so I was happy I chose to go now! Because of this stop and a moderate hill right after, mile 8 was my slowest at 11:04.
Before the race, the mile I was dreading the most was mile 9. The elevation map made it look like this was the mile with the worst hill (and Saturday's course preview confirmed as much), so after the agony of Deer Ridge, I was just a tad scared. However--while the hill this mile was pretty painful at times, it was more gradual than Deer Ridge, and thus didn't feel quite as bad. Still very difficult though, and there was definitely some walking involved (again, thanks to that Gu still upsetting my stomach). Mile 9 ended in the middle of it (10:37).
Mile 10 was definitely the mile where my negative self-talk ramped up big time. I remember thinking:
-"I will NEVER EVER EVER run another half marathon again. EVER."
-"Why do I do this to myself? I mean, really. Did I not remember how this went the last time? THIS IS ATROCIOUS."
-"It would not be dishonorable to just run 5Ks for the rest of my life. I would probably get really, really good at them."
"Why did all those long runs feel so LUXURIOUSLY EASY????"
Also, even though my mile splits (now, in hindsight) were not that bad, I was mid-race (never a good time for me to be doing math) and I was
sure
that I was not going to PR. Amby and the 2:15ers kept passing me back and forth, and I was positive that meant I was going to lag enough to lose hope of beating the 2:21 of my last race.
Yes, mile 10 was a dark time. 11:01, my second-slowest mile--and I don't have a porta-potty stop to blame that one on! To her credit, Sara stayed upbeat and chatted with me the whole time, which I absolutely appreciated, even if she was greeted by total silence as I pushed on. Haha. Sorry, Sara!
However, after mile 10, there was a nice stretch of downhill for a while. I got my breath back a little bit, and a smidge of energy to attack the last couple of hills. Mile 11 came in at 9:56, my fastest of the back half.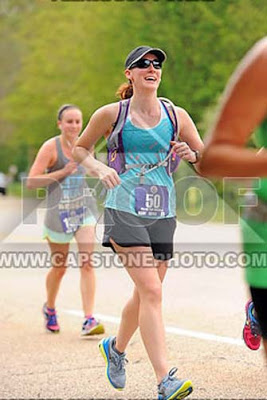 This was taken somewhere around now. I am smiling because Sara was throwing up gang signs at another photographer, not because I was feeling SO AMAZING. Haha.
Mile 12 (10:25) and the beginning of mile 13 had some mean little hills (how is that even fair? DO THEY EVER STOP?), but by then, I could feel that the end was near. And I realized that I was not only going to finish, but I was GOING TO PR. I was going to do it!! Sara and I were running right behind Amby's pace team, and were keeping a pretty good pace with them. I remember looking at my Garmin at one point and seeing that I was at 12.7 miles, and my face broke into a huge grin. We were almost there, and I was going to kick my PR's ass. TIME TO SHINE.
Finally, we turned left right before the 13 mile marker (10:27 split) onto Coogan Boulevard, and then into the Mystic Aquarium parking lot, with the finish in sight. The crowd was enormous, the cheers were infectious, and I was smiling ear to ear. But I also felt a HUGE surge of adrenaline, knowing that the finish was so close, and it made me feel like I was going to puke. (Basically the entire tagline for this race should be "I Thought I Was Going To Puke.") So I did ramp it up a bit, but not too hard, because a finish line vomit session was not on my agenda. I remember Sara saying, "Come on, Amby is right there! Let's speed up and finish with him!" and my response was, "I really do not want to puke on Amby!" (a solid choice).
I saw the finish, saw the clock ("You can finish under 2:15!" Sara exclaimed), pushed through the chute. Final finish time was 2:14:07! A PR by over 7 minutes. To say I was overjoyed is a serious understatement. You can tell in my finish photos: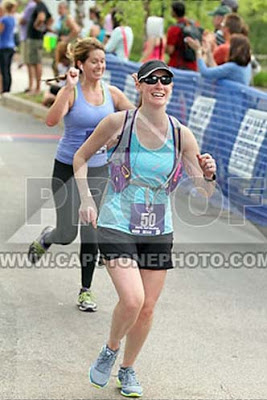 (Yes, my form went to absolute crap by then, but I DID NOT CARE.)
Colleen (who finished in 2:05!) met me at the finish, as did Chris (1:46!) and my parents. Hugs all around and much celebration, though honestly at this point, I was getting THE WORST stomach cramps. Damn that Gu! It took me almost a half hour before I felt good enough to choke down some post-race food, and even then I didn't feel fully recovered until the evening. Not sure what was up, but whatever.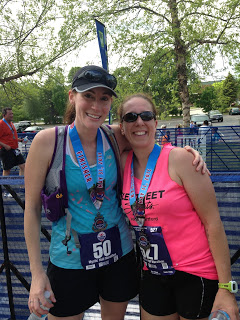 Sara and I right after the finish!
Sara and I also waited for Cora to finish, and she gets mega kudos for pushing on, because she found out the next day that the pain she was in was due to a torn LCL. OUCH. You go, girl.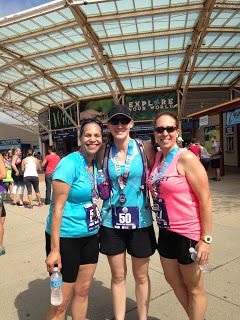 Cora, me, Sara
I did walk around the post-race party looking for Amby Burfoot, because by this time I felt like we had nearly finished together and thus had become bros, so we needed a selfie, but I couldn't find him. So Amby Burfoot should probably feel pretty relieved about that.
Other than the start line craziness, the only other downside to this race is that the free beers we were promised at the Steak Loft/Go Fish could not be served until 11am. WHAAAAAT. I finished at 9:15, and there was no way I was waiting around til 11 for my much-coveted beer. You can blame Connecticut and their ridiculous liquor laws for this. Booooooo, I say!
Afterwards, I went to my parents' house, showered, packed, and was on the road by 11:30. I do not recommend spending 7 hours in a car immediately after running 13.1 miles (legs are still paying for that 2 days later), but it was worth it to get home just in time to tuck my kids into bed! (Also, very fun to go into rest stops with some nice bling-bling on your neck. Yes, I wore it the whole drive.)
Final verdict: This course is hard. Really hard. I have talked with many others and heard some other recaps by now, and it seems I am not being overly dramatic here--the difficulty of this course is no joke. That back half almost requires you to bank time in the front half if you want any hope of a decent finish time.
That said: a 7+ minute PR feels pretty amazing on a course this tough!!! I am so proud of myself, and happy for all of the hard training I did to achieve this. I could never have trained enough for those hills (at least not in the area where I run), or the humidity, but even so, I can feel how much stronger I was during this race vs during the Rochester Half last year. A major, major difference.
Of course, I can't help but wonder what I could have done with this strength on a flat course...
...I guess I have to do another one to find out? :)