Hello readers! I just wanted to let you know that I am still alive, the Mystic Half Marathon did not kill me, and in fact it went quite well. Well enough to result in a 2:14:07 finish time, a PR by over 7 minutes.
WOOHOO!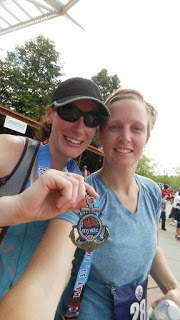 Celebrating at the finish with my good friend Colleen, who also nailed this race!
A race recap is forthcoming, but I haven't had time to put it all together yet. It will be here in a day or two though.
And, to my bookish friends, please trust me that more lit-related content is coming. I promise. My race is over, I am taking some time off from running (for a couple weeks, anyway ;) ) and I'll have much more time to read AND write!
More soon! Thanks for hanging with me during this crazy running journey!
Linking up with
Tara
today, as I wanted to let my Weekend Update friends know that I have survived! :)