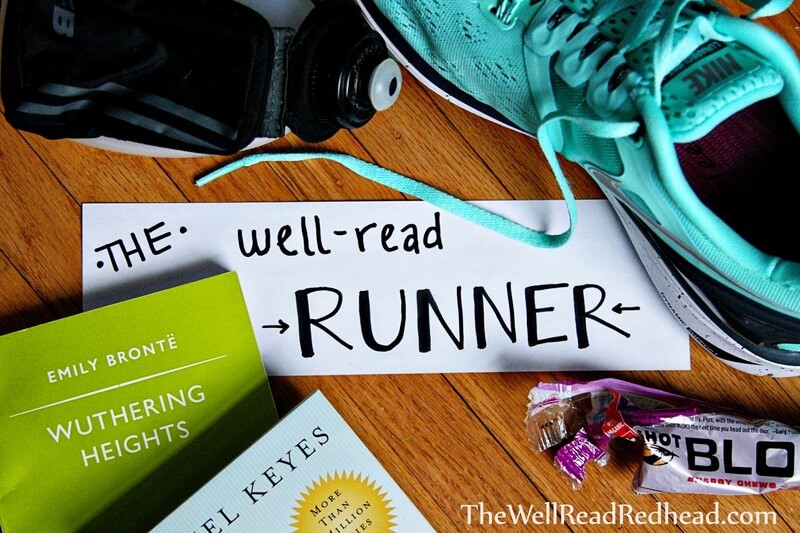 A quick recap for you of the Monster Scramble 10K that I ran last Sunday, October 18. You may remember that this was the 10K
I was fundraising for in order to support the National Multiple Sclerosis Society
.
I'm DELIGHTED to report that I was the #1 fundraiser in the Rochester area!!
I reached a grand total of $765, and am so appreciative of every single person who donated. It felt awesome to hand all that moola over to a great cause!!
The race took place at Mt. Hope Cemetery in downtown Rochester. I'd never been to the cemetery before, but heard it was a great place to run if you love HILLS. Knowing that beforehand, and taking my recent health issues into account, I knew going in that this was not going to be a PR race. I was happy to take this one easy and enjoy the ride.
The race started at 10am, but I was parked at the shuttle pickup by 8:45. I am not real familiar with downtown, and knew that I would have to park a few blocks away and take the shuttle to the race. Plus, the night before, Tater Tot got a cold, and my husband and I decided that they would not be accompanying me to the race. (There was a 1 mile trick-or-treat walk for families at the same time as the race...Small Fry was sad to miss out!) So I planned to get there early in order to give time for the shuttle, packet pickup, and then a possible shuttle trip back to my car to drop off stuff (there was no bag drop...kind of inconvenient when they were giving out so much stuff at packet pickup) before heading back to the start line.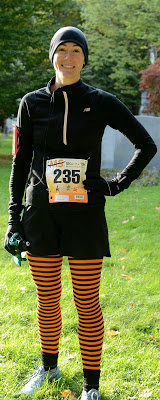 Pre-race. Those are some super-cool Halloween tights/stockings from Target. Never ran in stockings before this. Was not as terrible as expected. ;)
Unfortunately, I overplanned this one, because I was fully checked in by 9am, and had an hour to wait for race time...outside...in the cloudy 39 degree day. I was not the only one who was early, and you could tell we all regretted it! My fingers and toes were fairly numb by the time the race began (and that was with gloves and Drymax socks on). Note to self: don't get there quite so early next time!
I'd had peanut butter toast for breakfast, and ate a banana around 9:30. I probably could have done with more fuel, but I have such a hard time working up an appetite on race mornings. I had my small handheld water bottle with me during the race, though the course was very well stocked with water along the way. (I also held my friend Liz's bandana from a Muck MS event she did earlier this year, that says "I Muck It With MS"...it gave me some extra good juju when I needed it!!) :)
Finally, 10am approached. The start line was at the very bottom of a very, very, very long and steep hill. 3, 2, 1, GO and off we went up that hill! I was feeling my lack of recent hill training immediately, and made it about 80% of the way up before I had to stop and walk the rest. Oh well. Kind of a kick in the pants right at the beginning, but I didn't get down on myself about it. Hit the top of the hill, and back up to pace I went.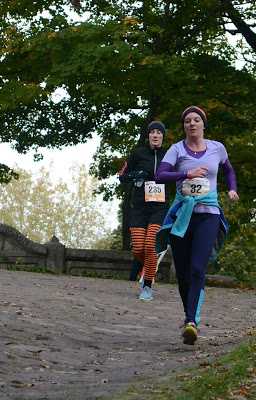 Pretty much all of my race photos are awful because the photographer was stationed at the bottom of a rocky hill that required you to be looking down and watching your footing the whole time! Oh well!
Honestly, much of this run was very uneventful. The cemetery actually made for beautiful scenery (as odd as that may sound), and it wasn't a very crowded race (even less so in the second half, when the 5Kers peeled off). Just me and my music, trying to keep a decent pace and enjoying the run. Yes, I did walk many of the hills, but because I knew I hadn't trained like I should, it didn't bother me. But the 10K was two loops of the 5K course, and it
was
a bummer to watch all those racers finishing while I made my way up that killer hill again!! :) However, I did enjoy that everyone was much more spread out for the last 3 miles.
I finished this one in 59:29. Not close to my fastest, but still under an hour, so I was pleased. My stomach was feeling a little delicate afterwards (what else is new for me??), so I walked around for a while and watched the Best Costume awards being handed out before getting back on the shuttle and heading home.
Overall, this was a very fun race that supported an excellent cause. Even though the course itself is challenging, I would love to do it again in future years, if only for the opportunity to fundraise again. That said, I think this race would benefit from two things: a bag drop, and some sort of warming tent (depending on the weather). But, neither of these things were a dealbreaker...just would have made the day a bit easier.
Have you done any Halloween-themed races? Any great running costumes to share??