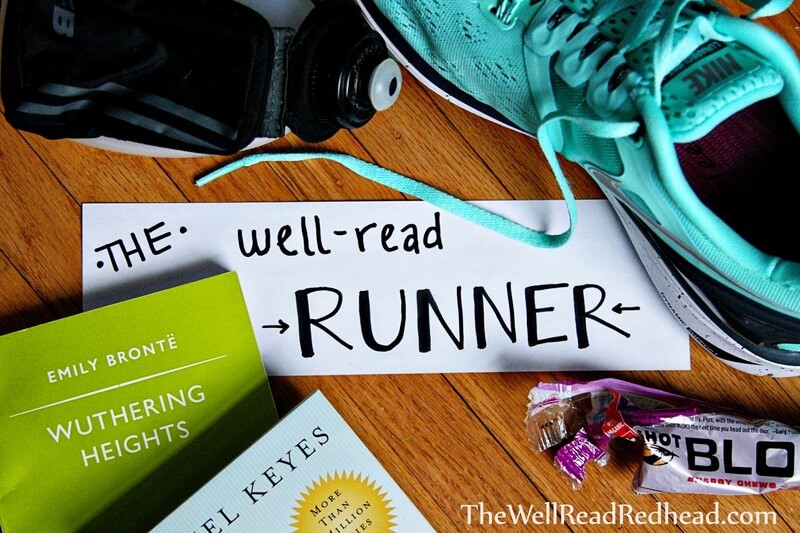 OMG, a Well-Read Runner post that's not on a Sunday! These running posts are getting insidious!!
Full confession: I have slacked way off on running lately. At the beginning of October (like 10 seconds after I signed up for the Four Seasons Challenge, OF COURSE), an unexpected health issue (long story, but basically a heart arrhythmia) came up that required me to stop running for about a week. At the end of that week, my doctor gave me the okay to continue my running regimen as usual, even though a few more tests are being done on me through the end of this month. While the doctor's okay should have been enough to make me lace up the shoes again, it wasn't...at least, not entirely.
I've been running since my doctor approved it, but the runs haven't been much fun. They've been fraught with worry (will the palpitations start up again? Will speed work aggravate them? If I didn't fuel/hydrate the right way before the run, will they come back?).
And let me tell you--not-fun running kind of sucks. It's real hard to get up at 5am on a Tuesday to knock down 4 miles when you know you're going to spend 90% of the time stressing out.
At this point, the medical testing is nearly completed, I have fewer and fewer reasons to worry, and runs are getting a bit easier, mentally. But all this has left me feeling rather dispassionate about developing a training plan for the Winter Warrior half on January 9. A twelve week program would have me start training around...now, but even with the OK from my doctor, I feel like I've fallen out of my running routine and am having trouble getting the motivation to make any sort of training schedule.
That said, I have a general idea of how I'd like to structure each week. I'm going rogue and not following a strict Hal Higdon/Nike +/whatever schedule this time around, because I've learned a few things about my body with the last two half marathons, and want to adjust accordingly.
Sunday: long run,
Monday: yoga,
Tuesday: run,
Wednesday: BodyPump (just tried this earlier in the month, LOVED it, been looking for some good strength training!!),
Thursday: rest,
Friday: run,
Saturday: rest.
I know, that's only 3 runs a week. But for this cycle, I really want to add yoga, I really want to add strength training, I really don't have time to double-up workouts in one day, and I really want 2 rest days. So that's where it leaves me.
However, if I make those 2 weekday runs work for me (maybe speed work one day, hills the other), it should be adequate. Winter Warrior is on a completely flat course anyway, so I could probably skip hills and perhaps just do a longer weekday run (4-5 miles instead of my usual 3-4)...because the big factor in the WW race is getting used to running in the arctic cold. So time spent outside on the roads is valuable no matter what. Right? This is what I'm telling myself!
I'm hoping that if I keep to that schedule, I will fall back into a happy running routine within a couple of weeks. We all have peaks and valleys with this crazy sport, don't we?? And apparently, this is one of my valleys. But I know it's time to climb out...I just need to find the foothold that will get me started.
How do you find your running mojo when it goes missing?