Hello, reader friends! I hope you've hung with me while I went on a bit of a vacation. While part of my absence was accounted for by an
actual
vacation for the last week, I've admittedly been a bit flighty 'round these parts for longer than that.
During the last few weeks of my race training, I was just too tired to get much reading (or blogging) accomplished. Then the race happened, and I took a full week off from running, but instead of spending that time reading, I spent a load of time with my family and just loafed around, catching up on Netflix. (Ain't no shame in my game.)
Then we left for vacation, which consisted of 1 day at Sesame Place in Langhorne, PA (basically preschooler crack. I was more tired this day than all other days combined):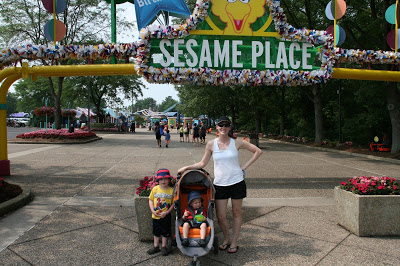 Followed by 7 days in Cape May, NJ. Which was 95% running around the beach with 2 very happy kiddos, and 5% reading and day-drinking: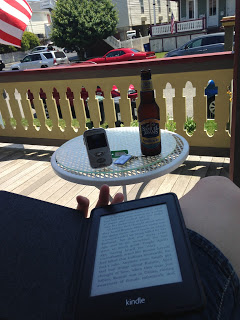 Kindle, keys, beer, and baby monitor. CHECK.
That 5% was pretty amazing though. I read ONE AND A HALF BOOKS during the week! Unheard of for me these days. The one I finished was
Commencement
by J. Courtney Sullivan, and the one I half-finished was
Day Four
by Sarah Lotz...which my reader friend
Julie
alerted me to during vacation, because it's Lotz's latest release after
The Three
, which you may remember
I ADORED last year
.
(For my running compadres, I also managed 3 early-morning runs while on vacation...I even ventured onto the sand for the first time! That is HARD WORK! Not only because of the soft surface, but the slope of the shoreline near the water made it hard to balance. Oh, and let's not forget the humidity. Quite the sweat sessions, they were.)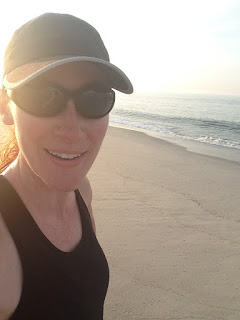 Anyway, now I'm home, and looking forward to reconnecting with all of you. I have some book reviews to write, and would also like to make time for a few bookish non-review posts that I've had in mind for a while. I have only one book tour that I'm doing all summer, so I'm really looking forward to some free-range reading over the next few months! I would also like to bring The Well-Read Runner back every few weeks, as I am in the midst of figuring out my next race plans...especially because I'm back from vacation and something needs to be done after I ate all that fudge and drank all that wine all week. HA.
So, the moral of the story is...I'm back, so let's talk books! :)