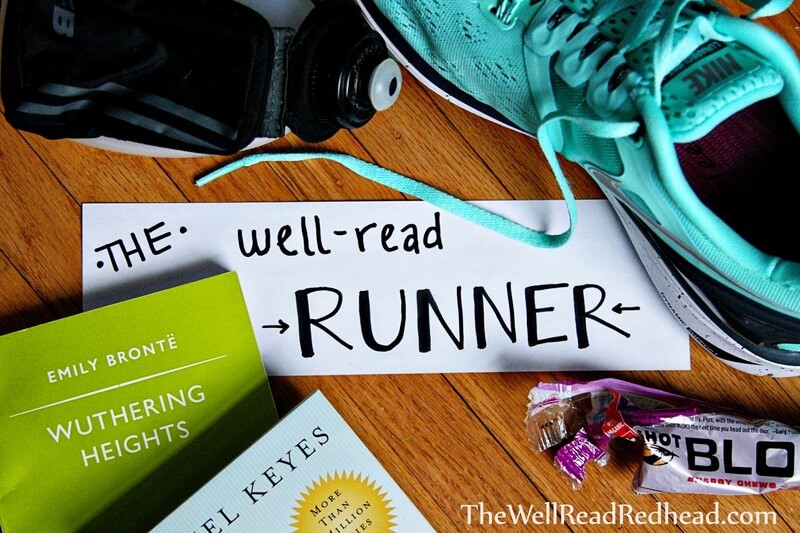 Hello, running friends! Last night was my first half marathon of the year (and part 1 of the
Rochester 4 Seasons Challenge
): Winter Warrior. Let's recap!
As you may remember, I decided a few weeks ago that I was going to try to run this race in
under 2 hours
. I was nervous about this attempt, but after running a 10 miler at 9:04 pace two weeks ago, I felt confident that I could go for it.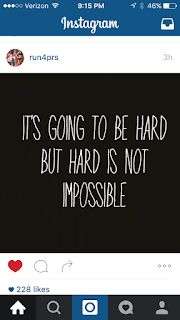 One of my mantras going into this race (from one of my fave running Instagram accounts!)
Well, let's just get it out of the way now: I did not run under 2 hours. BUT, I am still very happy with my time!
2:05:11, a PR by 9 minutes!
Can't be sad about that! Also, I think I am going to start giving lessons on how to PR with positive splits, because I am becoming kind of amazing at it:
Mile 1: 8:44
Mile 2: 8:40
Mile 3: 8:46
Mile 4: 8:55
Mile 5: 8:49
Mile 6: 9:01
Mile 7: 9:33
Mile 8: 9:19
Mile 9: 9:32
Mile 10: 10:11
Mile 11: 10:15
Mile 12: 10:18
Mile 13: 10:37
This is totally
NOT
a pattern to aspire to, but I guess I still got the job done!!
Here's a look at the journey behind those numbers.
So, I got to the race site about 45 minutes early: enough time to get a snack and evaluate the weather to see if I needed to add/drop layers. It was a 4pm start, so I'd been checking the weather all day, but it was about 45 degrees, overcast and windy at this point. (That's FORTY degrees warmer than last year's Winter Warrior!!) I ended up in my fleece Sugoi tights, a Nike dri-fit long sleeve tshirt, hat, gloves, and Darn Tough socks. In the end, the tights and socks were a good call, but I was sweating my butt off in the shirt, gloves and hat! Nothing I could do about the shirt (didn't have a layer underneath to strip down to), and I kept the hat because I had nothing else to keep the hair out of my eyes, but I ended up throwing my gloves at my husband at the halfway point. :)
As for fuel, I was carrying about 12 oz of water in a bottle, with a plan to refill at a water station if necessary. I also had 2 Gu's in the pocket of the bottle. I had hydrated all morning but stopped drinking 2 hours before the start, which worked out great--NO potty stops this race!!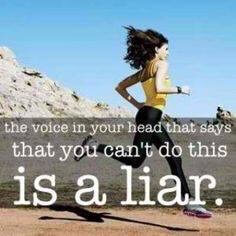 Another mantra for the day!
I got in line for the bathroom at 3:35, and started getting nervous because the loooong line was moving verrrrry slowly. I finally got to the porta potty at 3:52, did my business, came out and had time to give my husband, kiddos, and friend Mandy a quick hug before heading to the start line. The only thing I had to do was get my music started. And wouldn't you know it, my wireless Yurbuds (which had been working FINE at 2:30pm when I tested them), would not turn on!!! I tried and tried, but no luck. I have to believe I was just flustered because the start was so soon, because they worked fine when I got home. I was super bummed to not have my awesome playlist available, but oh well.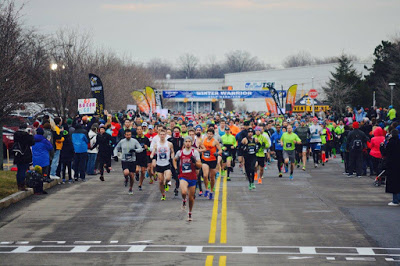 Photo from the start line. Great turnout!
4pm and we were off! Headlamps were recommended because sunset was a little after 5, but I get a headache if I wear my headlamp too long, so my plan was to hold it in my hand for the first half of the race and put it on around the 6 mile mark. Gun goes off, I get about 20 feet past the start line, and the light from my headlamp pops off the band and falls on the ground! "SHIT!" Luckily the girl behind me quickly picked it up for me and handed it back.
Okay, my earbuds aren't working, and my headlamp is broken. Maybe we can be done with the technical difficulties now???
I put all that chaos behind me and started running. The course was 4 laps (roughly 3.3 miles each) around a local industrial park. My target pace for sub-2 hours was 9:09, but accounting for not running the tangents perfectly, I was shooting closer to 9:00. I was feeling pretty amazing (as we all do in the first 5K of a half!), and of course went out too fast, as you can see from my splits. TYPICAL. I flew through the first lap with no problems, ended up throwing my earbuds and head lamp at my husband when I passed my cheering crew around 3.5 miles in. (Really so appreciative of them catching all the crap I threw at them during this race. Haha!)
Lap 2, things got a little tougher. I started feeling hungry--ugh!! I thought I had fueled okay during the day, but a 4pm start is so hard to plan for, and I guess I missed the mark. I took my first Gu at the 5 mile mark. Didn't really feel much of a boost from it right away, and was generally just feeling kind of junky in my stomach by the time I finished the second lap (6.6 miles). Mile 7's slower time is a reflection of the fact that I walked through the water station to get some electrolyte drink. Not something I had planned for, but I felt like I was sweating like crazy and could benefit from the extra electrolytes. The drink plus the Gu started to give me a little boost at that point, and my stomach stabilized a bit.
The rest of lap 3 was pretty uneventful, though it is worth mentioning that there was 1 "baby" hill on this whole course, and the general consensus is that it was definitely about 100 feet taller during lap 3. :) Lap 4 was a real beast though. For whatever reason, I started to feel super sore in my hips--not a place that I tend to get much soreness, so that was unexpected. The race was counterclockwise the whole way, so I wonder if all the left-leaning turns aggravated it? A day later, my left hip is definitely the most tender area on me. But anyway, that pain explains much of my 10+ minute splits for the last few miles.
Once I started that last lap, it was so tempting to want to walk, given the pain my hips, but I kept telling myself to keep putting one foot in front of the other--if I started walking, I knew I wouldn't want to stop!! I ran the whole final lap, which I was really proud of because it took some serious mental fortitude to keep going. (Lap 4 was also when I had all the typical half marathon thoughts: why do I do this to myself, I am never running one of these again, there is no freaking way I am running a marathon later this year, etc. etc. All forgotten within 10 minutes of finishing. Haha.)
Despite the pain, and knowing before I reached the finish that I was not under 2 hours, I smiled big when I reached the line and saw 2:05 on the clock. Major PR!! I may not have run this race perfectly, but I still felt amazing for all the work I had done.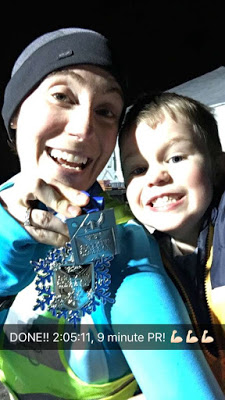 Snapchatting with Small Fry :)
I met up with my family, and laughed as Small Fry ogled my race medal (which is definitely the biggest one I've gotten so far, it's pretty blingy!). I brought him into the post-race tent with me to collect the first quarter of my 4 Seasons Challenge medal as well. (Small Fry very solemnly placed it around my neck, which was adorable.) My stomach was feeling awful at this point, but I managed to get some water and choke down an apple. (Honestly, my stomach suffered for the rest of the night--it wasn't until about 11pm that it finally started to feel normal. Why does this always happen to me post-race, but never after long runs?? Something I need to figure out...)
Today my left hip is in a world of pain, though a little time at the YMCA pool with our boys this morning helped a lot. Otherwise my stomach is back to normal, and I'm looking forward to some foam rolling today (and yoga tomorrow) to help things along.
Another race done! As always, it had its difficulties, and I continue to learn more running lessons with every race that I do. But I'm happy with how this one went, and I look forward to the challenges ahead!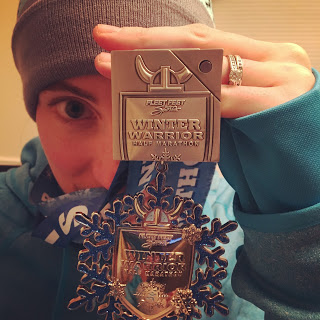 2 medals = bling bling!
Did anyone else race this weekend? Any other chronic positive-splitters out there?? :) (We need a support group!)