Howdy, readers! It is week 3 of
Nonfiction November
, and I am moving right along with my nonfic reading. I'm still working on
1776
by David McCullough...in my defense, it is a very dense book, so it's taking me some extra time to finish. However, it is worth every bit of the extra effort. This is such an in-depth look at the American Revolution, and it's hard for me to put it down! My next book will be
Tiny Beautiful Things
by Cheryl Strayed...I wanted to read at least one nonfiction book this month that was based solely on recommendations from other readers, and this one has been mentioned a LOT (hiiiiii Shannon from
River City Reading
!). Stay tuned for that once I'm done getting my history on.
On to this week's featured nonfiction topic! Diversity in Nonfiction:
"

What does "diversity" in books mean to you? Does it refer to book's location or subject matter? Or is it the author's nationality or background? What countries/cultures do you tend to enjoy or read about most in your nonfiction? What countries/cultures would you like nonfiction recommendations for?"
Hmmmm. Well, I could give a fairly textbookish answer to what "diversity in books" means, but this is supposed to be what it means to ME. So if I'm being honest, I consider myself a "diverse" reader if the book I'm reading has a setting or cultural focus outside the US/Canada. (Oh Canada, I know you're international too, but since it takes me less time to drive to your border than it does to drive to my own parents' house...I'm not considering you very diverse for my own reading purposes.) I don't often take the author's nationality into account, and I know that that is not necessarily the best way to define diversity--because can a white American author write about, let's say, Peruvian culture in the same way as a Peruvian author? Likely not. But when I read books (especially books that I pick up on a whim), I rarely take the time to look into the author's background before I jump in, and so their culture is not usually on my radar while reading.
I don't think this somewhat narrow view of literary diversity necessarily makes me a less-diverse reader, but it probably is something that is worth paying attention to in the future when I read. Because as I suggested above, two authors with different backgrounds writing about the same culture are probably not going to approach it the same way--which, in turn, will affect my experience as a reader.
However, I should also note that setting alone is not an accurate way to depict diversity. For example: Mitchell Zuckoff's Frozen in Time is set primarily in Greenland. But I didn't learn a darn thing about Greenlandic Inuit culture in that book, because it was focused mostly on the rescue of American servicemen in that country, not on the people of the country itself. Thus, in my eyes, that is not a "diverse" read. I have to get some actual insight into the inhabitants of that country in order to feel like I've diversified my reading.
As far as the countries/cultures I tend to focus on the most in nonfiction...after looking through my Goodreads lists, it seems that I don't have a particular focus. I've covered Kiribati ( The Sex Lives of Cannibals ), Sudan ( God Grew Tired of Us ), France ( Paris, My Sweet ), Sweden ( Yes, Chef ), the UK (Notes From A Small Island by Bill Bryson) and many more. No particular focus here, which is as I expected, because I find it interesting to read about pretty much any culture. That's one of the reasons I love nonfiction--the opportunity to learn something completely new, or at least to learn about a completely new aspect of something that I am already a little familiar with.
As for a location that I'd love to get recommendations for: I have two. First is the Netherlands. My stepfather's family is from Holland, and I fell in love with the country after a visit there in 2010. It would be great to get my hands on some good nonfiction that is based there! Second is Barcelona, Spain. Another location that my husband and I have visited and adored, but I have yet to find any books set there.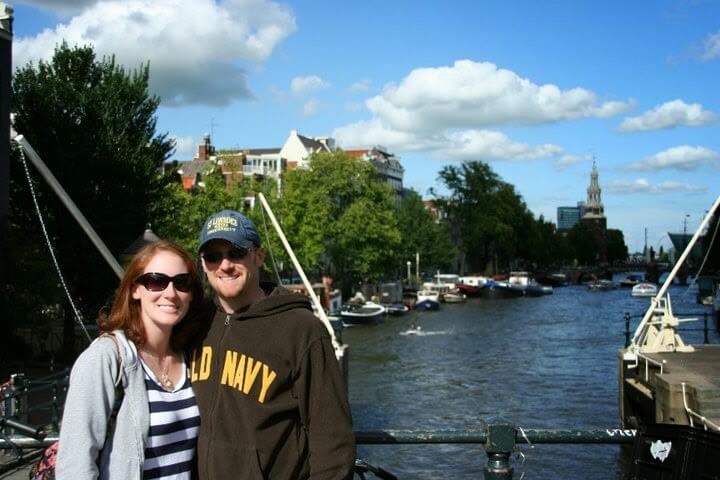 My husband and I standing by a canal in Amsterdam. Throw in a windmill and some stroopwafels and this would basically be the most Dutch thing ever.
How do you define "diverse" nonfiction? Have any good Dutch nonfic reads to recommend to me? And for more on my thoughts about "traveling through reading", check out this post I did last year!