Hello, reader friends! In case you haven't heard, November is officially Nonfiction November, as declared by its co-hosts, Becca, Katie, Kim, and Leslie. I'm very excited to be participating in the event this month (for reasons you will see below). Nonfiction November includes weekly discussion posts, as well as a nonfiction book readalong, so head on over to any of the hosts' blogs to find out more.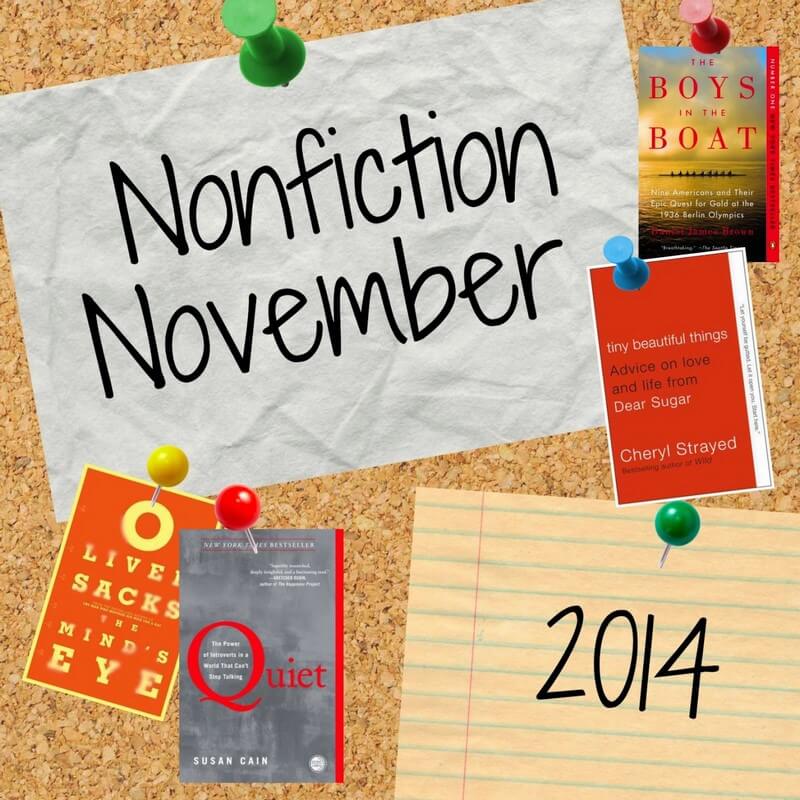 This week's Nonfiction November discussion focuses on your year in nonfiction: t

ake a look back at your year of nonfiction and reflect on the following questions – What was your favorite nonfiction read of the year? What nonfiction book have you recommended the most? What is one topic or type of nonfiction you haven't read enough of yet? What are you hoping to get out of participating in Nonfiction November?
Here's where the sad admission comes in: I've only read TWO nonfiction books in all of 2014! I didn't even realize this atrocity until I heard about Nonfiction November and took a look back at my reviews for the year. I read Sous Chef by Michael Gibney back in March, and Pooja Mottl's The 3 Day Reset in June, and that is IT. So not only have I not read much nonfic at all, but I've also limited myself to food-related nonfiction. FOR SHAME, ME.
Therefore, my obvious goal for Nonfiction November is to...read more nonfiction. I have no real explanation for why I've strayed from it this year. I do enjoy nonfiction, though I tend to favor fiction overall for the entertainment value. However, I rarely have an imbalance between the two that is this large. So I will be doing some work on that this month!
Even though fiction may win for entertainment value, I love nonfiction because I feel like it feeds my brain. I have learned some of the most random, fascinating factoids through nonfiction reads. And some nonfiction authors are so good at their craft that you often feel a level of suspense that is usually reserved for a fiction novel as you're reading their work (examples would be Frozen in Time by Mitchell Zuckoff, or In The Garden of Beasts by Erik Larson).
So, what exactly am I reading this month? Well, as we know, I'm not a very fast reader these days, so I can't set the bar too high. However, I am going to try to read a few nonfic titles that have been sitting on my at-home TBR for quite a while. Possibilities include:
1776 by David McCullough
At the Mercy of the Mountains by Peter Bronski
Chicken Soup for the Traveler's Soul by Jack Canfield, etc
The Road Ahead by Bill Gates
Bitter is the New Black by Jen Lancaster
The Nasty Bits by Anthony Bourdain
That's just what I have on hand though. I sparked a little Twitter discussion the other night regarding reader's recommendations for the best nonfiction, and I got a TON of great responses! A library trip may be in order!
What say you, friends? Will you be participating in Nonfiction November? What types of nonfiction do you gravitate towards the most?