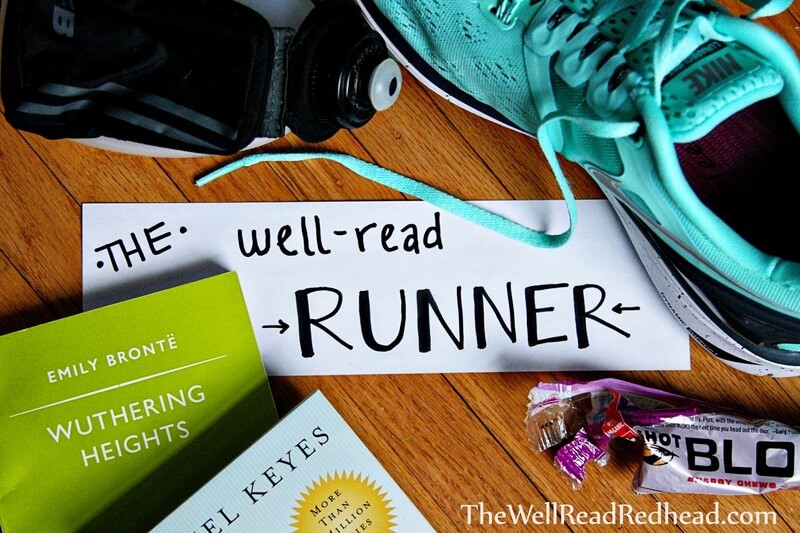 Happy Sunday, reader friends!
I'm trying something a bit different around here for a few weeks. My 12 week training program for the half marathon I'm running on May 31 starts tomorrow. Half marathon training takes up a sizeable amount of my time (as I learned when I trained for my first one last year,,,recap post
HERE
). There's a lot of blood, sweat, and tears that go into such an endeavor. It affects my schedule greatly--including my reading time.
As such, I thought it would be fun to do one post a week that tracks my training progress. Reading (and blogging about it) is an important part of my life, but this will be as well--so why not chronicle it along the way?
Each Well-Read Runner post will be on Sunday, though not necessarily in the morning (as that is when I'll be doing my longest run of each week, and I'd like to include it in the post). I'll keep you updated on my training--the highs AND lows. Feel free to chime in with your own exercise/training stories, and any words of wisdom! I've learned that running long distances is often more mental than physical, and I could use any encouragement you've got.
With that said, tomorrow the journey begins. I will be using Hal Higdon's Intermediate Half Marathon training program (for those interested, you can check it out
HERE
), which includes 5 days of running, 1 strength training day, and 1 rest day each week. I raced a time of 2:21:12 at my half marathon last year. This time, I'd really love to hit 2:10 or under. That is close to what my original goal was for my first half, but for many reasons, that did not happen. So I'm going back to the drawing board to try for that time again at this race.
I am very nervous about this goal though, knowing how I fell apart during my last half marathon (and also, you can't ignore that it's an 11-minute time drop...ambitious, to say the least). This time around, I'm going to pay attention to more than just hitting my distance goals, since I've learned (the hard way) that nutrition, race-day preparation, and mental focus are just as important to practice. And hey, if I come in at 2:21:11, I CAN'T be mad at myself, because it's still better than last time! I guess that's the real goal for me here.
If you have ZERO interest in running, please feel free to avoid my blog on Sundays. :) Although I'm sure I can promise many laughs at my own expense along the way to keep you entertained! Otherwise, I'll see you here for a bit of running chat each Sunday...and all my usual bookish goodness during the rest of the week.
Are any of you runners, my bookish buddies? Potential runners? Lapsed runners? Not-a-runner-but-like-to-laugh-at-runners? (We can admittedly be annoying, with the 13.1/26.2 bumper stickers and all.) Do tell!