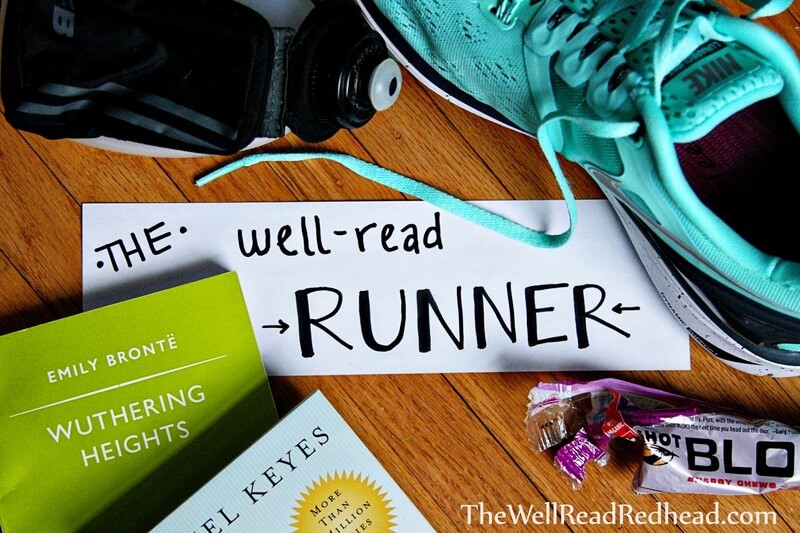 Week 1 of training for the
Mystic Half Marathon
is done, my friends! Here's a recap of how the week went...
Total distance:
16.72 miles
The name of the game this week was
Sleep Deprivation
. Both of my kiddos were sick, and young kids being sick = no sleep for anybody. Then, they got better just in time for us to drive the 7 hours (with kids = 10 hours) to New Jersey for my brother's Coast Guard Company Commander graduation. An awesome time, but yeah, made for a busy week!!
I knew the sleep issue would be a potential hurdle during training (Small Fry has never been a good sleeper, even when healthy), but I'll be honest, this week made me worry about it a bit more. I was able to complete all of my workouts despite the sleep issues, but most of my runs were only 3 miles long--a half hour at most, no problem. When my workouts extend to 7, 8, 9 miles and beyond...getting hardly any sleep is going to be trouble. I'm hoping the coming of spring (and the going of illness and dry nighttime air) will bring us some better rest all around!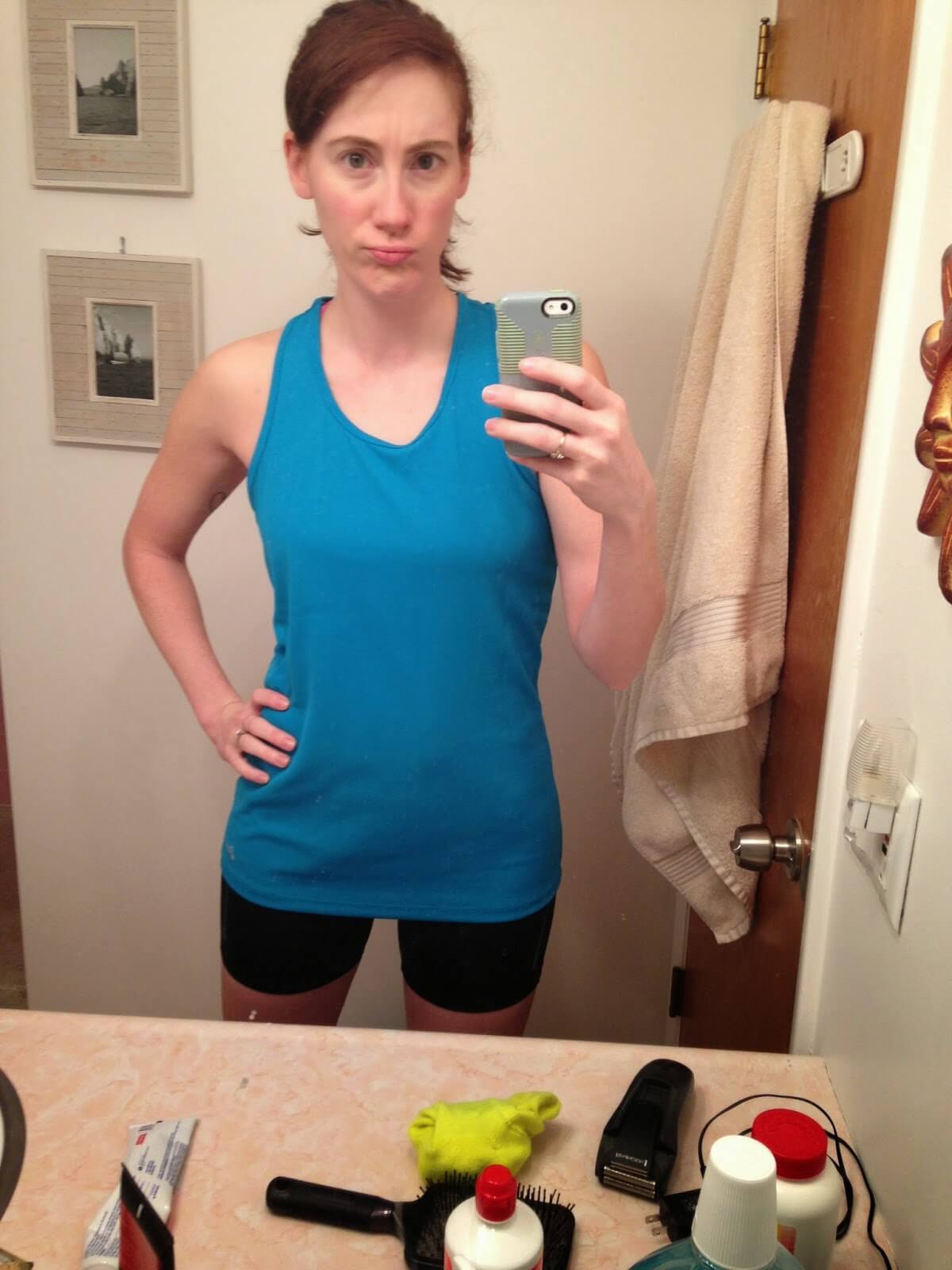 This is how I feel about getting ready to run at 5:30am after being up with my 1-year-old from 3:00-5:00am.
ANYWAY--here's a breakdown of the week:
Monday: Stretch and strengthen.
I got up early and did a 35-minute Jillian Michaels ab workout (good overall core strengthening). Also did some reps on the weight machine we have downstairs. It made me sore--the pain means it's working, right?
Tuesday: 3 miles, easy pace.
No issues here. Kept about a 9:20 pace. It was 45 degrees outside, felt awesome!
Wednesday: 5 x 400 speed workout.
Got up early to do this one on the treadmill, since all the tracks around here are still slushy. Basically, I did a half-mile warmup, then 5 fast intervals of a quarter mile each (with a short recovery jog in between). I was supposed to do the intervals at 5K pace, and my 5K PR is 27:02, so I ran them at about 7.2 mph on the treadmill (I used a treadmill pace converter that I found online to figure that out...if you're running at a 0 incline, it's actually easier/faster than running outside, so it's not an even conversion.) I did well (I was watching Prefontaine on my tablet while running, that helped!), but wow, I am dreading when I have to start doing more intervals in a row. They are HARD. The last one was a struggle!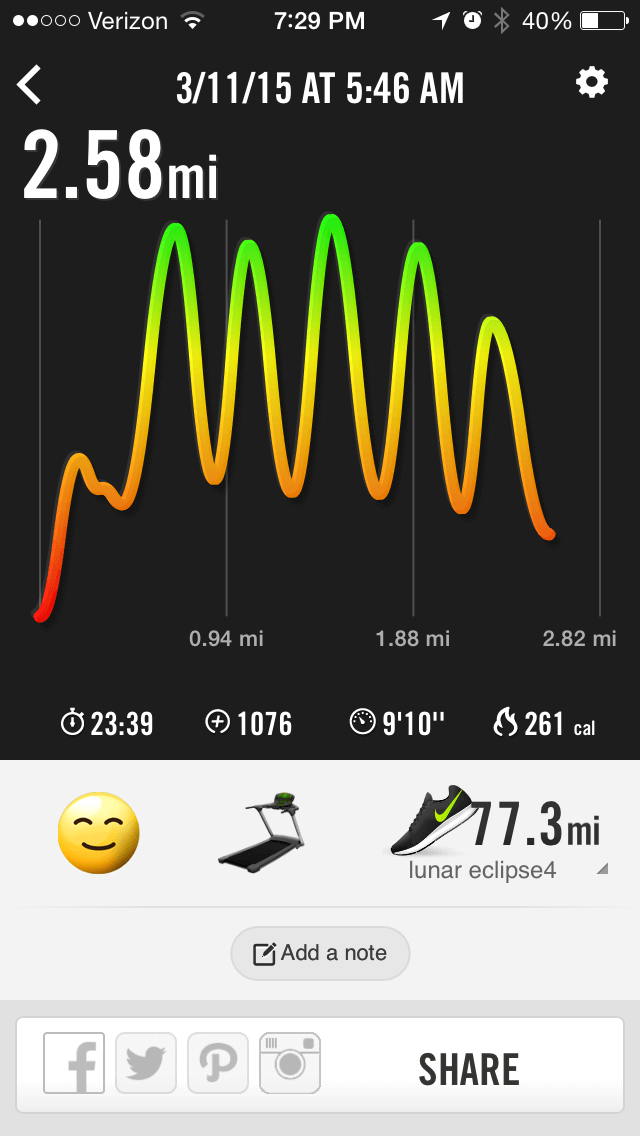 Thursday: 3 miles easy + strength work.
Instead of doing a separate strength workout, I added some hill work into my run. The half that I am running has some pretty wicked hills in the last 4-5 miles, so I need to focus on that a bit. I did this one on the dreadmill as well, because I had to do it at 5:30am and I really didn't feel like gearing up to go out in the dark.
Friday: Rest!
And good timing, it was my brother's graduation day. Got to have fun with the family all day long.
Saturday: 3 miles easy.
After spending 10 hours in the car traveling home, I kicked my butt outside and did my miles...in a 36 degree rain. (Insert strong-arm emoji here.) I went easy for sure, 9:51 average pace.
Sunday: 5 mile long run.
My first long run of this training period! It went really well. I kept a 9:52 average pace, which was hard for me...I was in the mood to fly, and I had to keep pulling myself back. My first mile was actually 9:41 and I kept dialing it down throughout the run so I wouldn't burn out (last mile was slowest at 10:03). My "race pace" for my target time is about 9:54, and long runs are supposed to be a bit slower than your race pace...however, when my long runs aren't particularly long (under 7-8 miles) it is harder to keep myself slow. Once I get to longer distances, this will not be a problem anymore...haha.
A great first week! Hopefully we get more sleep around here this week. Next weekend, my post should be interesting, as I have some plans to incorporate a local 5K into my training (instead of the long run). Stay tuned!
How was your running week, friends?
How do you pace your long runs?
How do you keep yourself motivated to work out when you're sleep deprived?