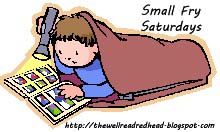 Hey, if I can do my own Christmas
book haul post
, then Small Fry deserves one as well. We are taking a break from our normal Small Fry review this week, and showing off what SF got from Santa in the book department this year.
My tiny sir has received:
Snuggle Puppy! by Sandra Boynton
My Dad Loves Me! by Marianne Richmond
Thomas Looks Up by Rev. W. Awdry and Billy Wrecks
The Cheerios Play Book by Lee Wade
Jingle All The Way by Tom Shay-Zapien
Press Here by Herve Tullet
The Duckling Gets A Cookie?! by Mo Willems
Beatrix Potter: The Complete Tales by Beatrix Potter
Sesame Street Starry Sky Songs by Publications International
We bought the books by Boynton, Richmond, and Willems for Small Fry, but we are so grateful to his grandparents and other family members for giving him the others as gifts! This kid is going to need more book storage room soon (he is already taking over my bookshelves).
We've already given many of these a read, and I can't wait to share some of them in future Small Fry Saturdays. Some of them are fun (
Snuggle Puppy
leads to some hilarious singing), others are awwww-worthy (
My Dad Loves Me
), and some are very interactive (
Starry Sky Songs, Thomas Looks Up,
etc)...so I have a whole range of things to review soon.
What books did your small fries receive this holiday season?