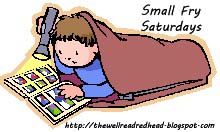 It's time for installment #14 of
Small Fry Saturdays!
This is where I do a weekly showcase of books that my Small Fry is currently reading. Feel free to do a SFS post on your blog (with the graphic above) or leave a comment below about your favorite kiddie reads.
Press Here by Herve Tullet
Small Fry received this book for Christmas from his great-aunt and -uncle. I'd never heard of it before, but all it took was one reading for me to say, "Okay, this book is flipping AWESOME." SF is a tad young for it right now, but in a year or so, I bet he will think it's a riot.
The book starts by asking the reader to press the yellow dot and turn the page. From there, kids are asked to shake, blow on, and press the book in all different ways, causing the dots to rearrange themselves on the subsequent pages.
one page example
Interactive children's book WIN. It's such a simple concept, but manages to be educational (pick the yellow dots out from the other colors!) and goofy at the same time. Apparently the book even has it's own iPhone app ($.99) with additional games and activities, which I'm planning to check out soon.
What are your favorite interactive kid's books?