Hey there readers! Small Fry Saturday is back! WOOOOOO!!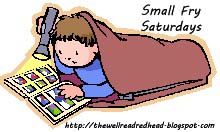 As you may remember, Small-Fry Saturday is a when-I-feel-like-it meme to showcase some of books that my 2-year-old Small Fry is currently reading. Feel free to do a SFS post on your blog (with the graphic above) or leave a comment below about your favorite kiddie reads.

This week's selection is...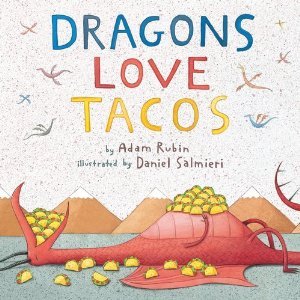 Dragons Love Tacos by Adam Rubin
(illustrated by Daniel Salmieri)
Now that I'm home with my kiddos full time, I take them to the library at least once a week. Small Fry is now 2.5, and takes great pleasure in picking out at least 2 books to bring home at the end of every library trip. However, because his reading skills are...you know, at the 2.5-year-old level, his book selections tend to be pretty random. That said, I have no idea what compelled him to grab this one a few weeks ago, but WAY TO GO, KID. Because this book is hilarious.
So, the basic premise of the book is this: dragons love tacos. But they hate spicy salsa, WITH A PASSION. However, they do love parties, and obviously, they love TACO parties. So throw your dragons a taco party, but good God, don't mess it up by serving spicy salsa. Or you're going to have a lot of really flippin' angry dragons after you.
I know. It makes no sense, AND YET IT MAKES PERFECT SENSE. This book is meant to be funny, and kids will definitely see the humor, but adults are going to love the subtleties even more. Plus, the illustrations match the tone perfectly.
If you're into quirky humor and/or have a kid that is a fan of dragons (or tacos, but not spicy salsa), this book is fantastic. Definitely the best library find that Small Fry's had in a long time!
What's your favorite humorous kid's book?